A Leap into the Next Hundred Years
The Goals and Purpose of the Cross-Campus Innovation Ecosystem 2031 Initiative
1
Tokyo Tech's challenges and decisions
The National University Corporation Tokyo Institute of Technology (Tokyo Tech) started as the Tokyo Vocational School in 1881 and celebrated its 140th anniversary in 2021.
As one of Japan's leading science and engineering universities, Tokyo Tech promotes cutting-edge education and research and has produced a diverse range of industrial experts. As the situation of the world continues to change rapidly, the Japanese government in its Sixth Science, Technology and Innovation Basic Plan laid out the policies of innovation needed to achieve the anticipated Society 5.0 and carbon neutrality. The response to the post-COVID-19 pandemic world is also an urgent and critical issue.
As an institution that intends to become the world's leading science and technology university, Tokyo Tech is taking on the new challenge of redefining science and technology through cross-disciplinary collaborations. We are also pursuing major management reforms to foster highly skilled technical personnel capable of solving global issues. This includes the transition of the education system by adopting schools in the organizational structure in 2016. Selected as a Designated National University Corporation in 2018, Tokyo Tech made the bold decision to redevelop the Tamachi Campus and launched the project with a plan to reopen around 2030. We will strive continuously to enhance the singular characteristics of our three campuses as we pursue greater developments.
2
Creating a diverse innovation/creation environment
Within the Cross-Campus Innovation Ecosystem 2031 Initiative, we will use the Tamachi Campus redevelopment project as a key measure to achieve our goals of transforming the three campuses as well as strategically building a unique cross-campus innovation ecosystem. Within this system, we expect the knowledge, people and funds that Tokyo Tech generates to circulate virtuously, and that that will lead to an organic and evolving network of industry-academia-government collaborations with off-campus partners.
Tokyo Tech maintains a culture of continuous innovation, attracting many outstanding researchers and students with a liberal arts background. We will contribute to society's future by creating an environment in which diverse resources — including people, knowledge and funds — can circulate virtuously and generate innovations.
We are positioning the next decade until 2031 — the 150th anniversary of the founding of Tokyo Tech — as a decade of environmental development with a view toward the next hundred years. Tokyo Tech will use this initiative as one of the strategies for realizing its long-term goals, and will strongly promote the strengthening of industry-academia-government collaborations and the development of innovative campus environments.
3
Purpose of the initiative

Tokyo Tech's aim and mission
Tokyo Tech seeks to contribute to civilization and the welfare of humankind by educating students to acquire necessary expertise in liberal arts and scientific expertise, and aims to develop competent citizens par excellence as future industrial engineers, industrial managers, and science and engineering researchers and educators, researching the theory and application of science and engineering deeply with academic mastery to promote development of science and technology. (National University Corporation Tokyo Institute of Technology Organization Management Regulations, Article 2)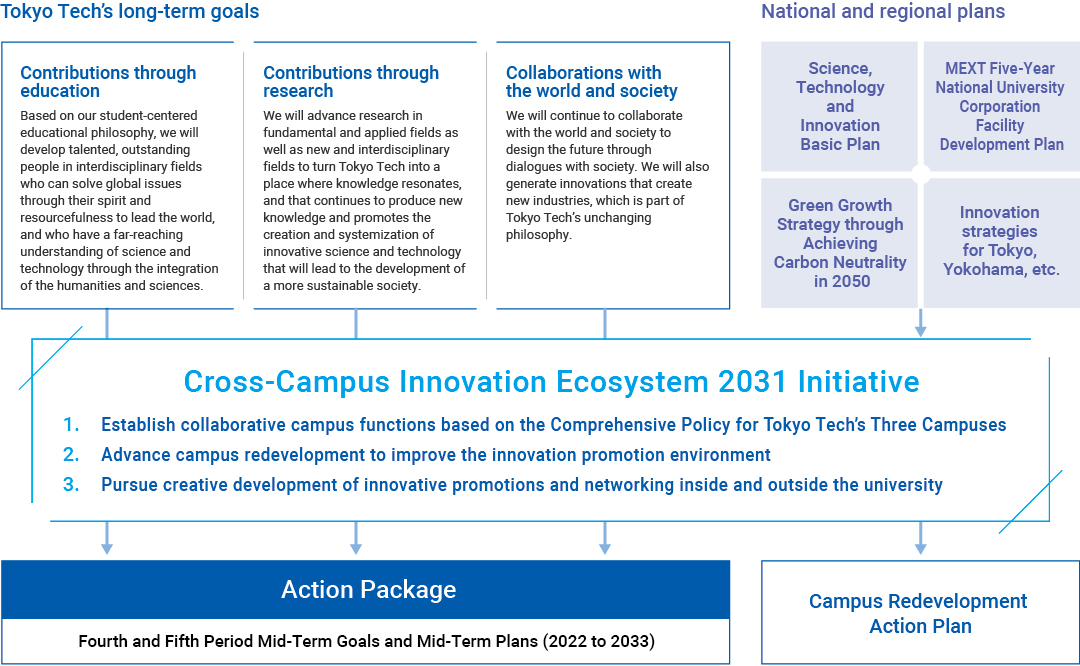 "Decade of environmental development with a view toward the next hundred years"
Tokyo Tech will create an environment that fosters innovation.

Tokyo Tech's Growth Strategies
Establishing a Cross-Campus Innovation Ecosystem
Tokyo Tech Cross - Campus Innovation Ecosystem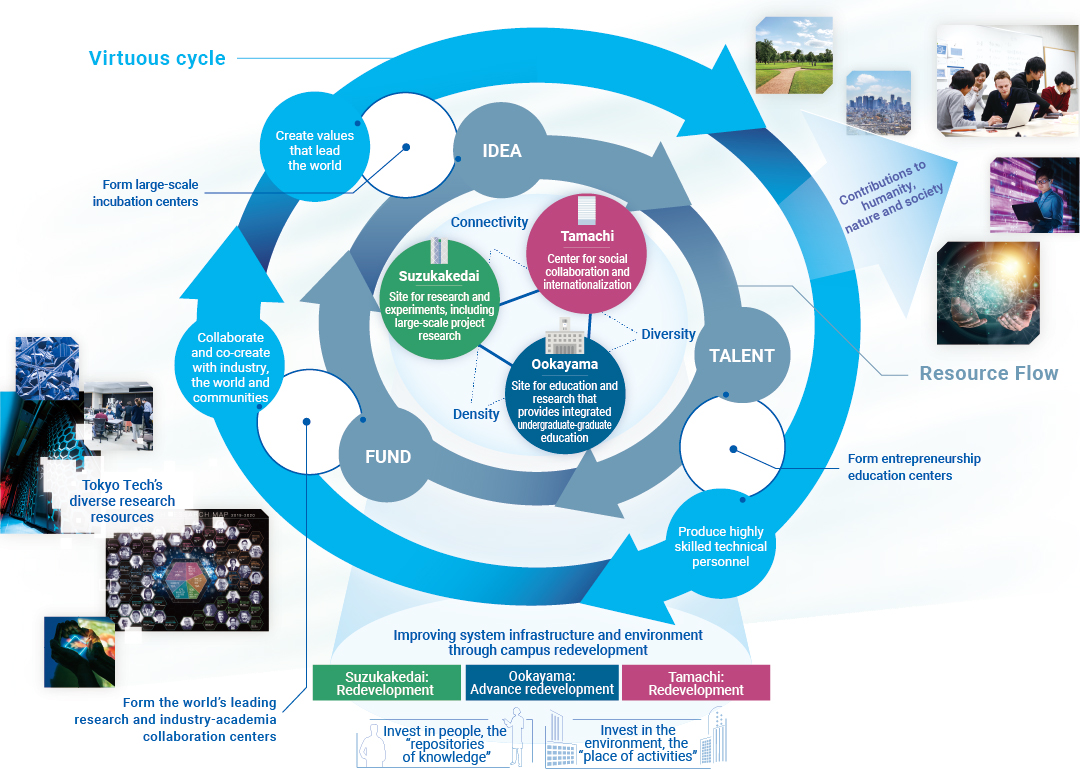 4
Developing an ecosystem through the virtuous cycle of university resources
To come up with innovations under our unchanging philosophy of creating new industries, Tokyo Tech will strategically develop a unique cross-campus innovation ecosystem in which the diverse knowledge, people and funds we generate circulate virtuously among the three campuses and lead to an organic and evolving network of industry-academia-government collaborations with off-campus partners.
To this end, it is necessary to ensure diversity in education, human resources, funding, investment and science and technology, and to form a close network. Tokyo Tech has diverse research resources, and intends to build an innovation ecosystem that can sustainably contribute to the world and local communities through industry-academia collaborations and social implementation utilizing the research results it generates.
5
Advancing a system in which acceleration of the ecosystem building and acceleration of campus renovation and redevelopment occur in unison
To create our cross-campus innovation ecosystem, it is vital to develop advanced and specific systems that synchronize acceleration of the ecosystem building and acceleration of campus renovation and redevelopment. Before redeveloping the Tamachi Campus, Tokyo Tech is redeveloping the Ookayama Campus, including the relocation of the Tokyo Tech High School of Science and Technology. As the redevelopment of the Suzukakedai Campus proceeds, we will also develop the system infrastructure that supports the ecosystem building of the three campuses.
6
Enhance the internal promotion system and the external network
To create our cross-campus innovation ecosystem, Tokyo Tech will strengthen the industry-academia-government collaboration efforts we have promoted to date, and pursue large-scale inter-organizational collaborations and startup development using our educational and research resources.
The Open Innovation Platform and Office of Research and Innovation, which are Tokyo Tech organizations that promote industry-academia collaboration, will collaborate with the Laboratory for Design of Social Innovation in Global Networks and Tokyo Tech Advancement to create new industries through "backcasting" and globally expand the ecosystem that creates a virtuous cycle with local communities.
Over the next decade, Tokyo Tech will strengthen cooperation with related government agencies, companies and other universities, and promote the innovation platform project in which we participate, gradually expanding the innovation network among industry, academia and government.
Campus Innovation for Global Expansion
Campus Redevelopment Concept for Ecosystem Development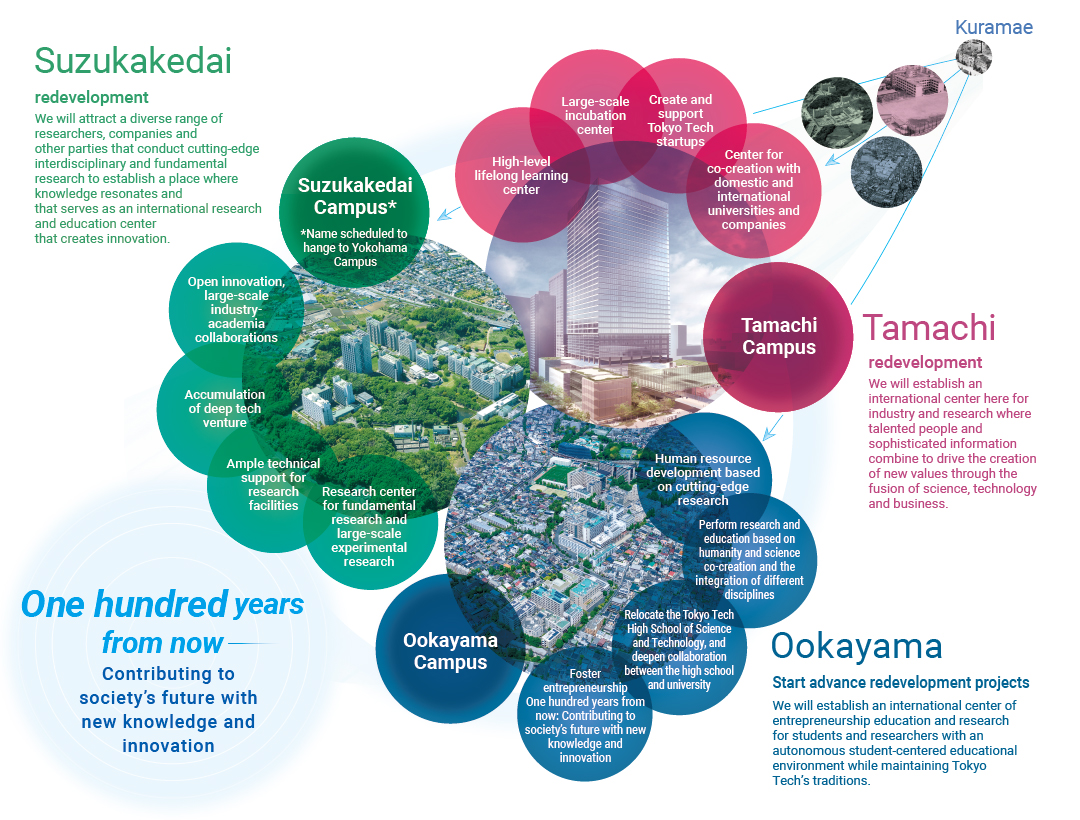 7
Role and purpose of each campus
Based on the Comprehensive Use Policy for the Three Campuses established in 2015, Tokyo Tech has formulated the Campus Master Plan 2016 to improve the overall campus environment. We will redevelop and reorganize our three campuses according to their locations and roles: the urban Ookayama Campus, surrounded by residential areas; the ultra-urban Tamachi Campus, located in front of JR Tamachi Station; and the suburban Suzukakedai Campus, surrounded by greenery.
Since the Ookayama and Tamachi campuses are surrounded by commercial and residential areas, large-scale experimental research will be conducted primarily at the Suzukakedai Campus. The lush green Suzukakedai Campus has great potential to become a research center for innovation. In parallel with the redevelopment of the Tamachi Campus, we will also redevelop Suzukakedai, in collaboration with Yokohama City, as part of our community contributions. By enhancing its attractiveness as a research campus, we will create a synergistic innovation environment.
We will redevelop and reorganize in three areas: the improvement of food, housing, outdoor spaces and other aspects of the research environment; utilize existing facilities and space; and promote digital transformation of the campuses. As we do so, we will create an attractive "creative commons" campus that connects to the local community and the world.
8
Investment strategies for redevelopment
As mentioned above, Tokyo Tech is intent on becoming a truly world-class science and engineering university. We strive to secure excellent human resources (researchers and students), create innovation, and promote social implementation of research results.
To this end, with the recognition that both investments in human resources and the development of an environment that produces outstanding results are vital, Tokyo Tech will make investments that leverage the strategic locations of our three campuses and pursue organic collaborations.
We believe that the development of a global standard campus environment is a strategic investment to attract human resources and promote research, and contributes to our growth strategy. We will also develop an evaluation framework to ensure that the cash flow Tokyo Tech generates is invested effectively.
These campus innovations will dramatically increase fluidity among the three campuses and also lead to the major redevelopment at the Ookayama Campus.